Dental Arts of Wyomissing Blog
Posts for tag: fillings
By Dental Arts of Wyomissing
September 30, 2017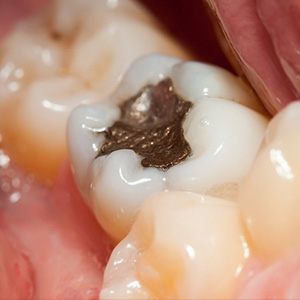 Over the last century and a half millions of people have had a tooth cavity filled with "silver" amalgam. Perhaps you're one of them. The use of this effective and durable filling has declined in recent years, but only because of the development of more attractive tooth-colored materials.
At the same time there's another issue that's been brewing in recent years about this otherwise dependable metal alloy: the inclusion of mercury in amalgam, about half of its starting mixture. Various studies have shown mercury exposure can have a cumulative toxic effect on humans. As a result, you may already be heeding warnings to limit certain seafood in your diet.
So, should you be equally concerned about amalgam fillings — even going so far as to have any existing ones removed?
Before taking such a drastic step, let's look at the facts. To begin with, not all forms of mercury are equally toxic. The form causing the most concern is called methylmercury, a compound formed when mercury released in the environment combines with organic molecules. This is the form certain large fish like salmon and tuna ingest, which we then ingest when we eat them. Methylmercury can accumulate in the body's tissues where at high levels it can damage various organ systems.
Dental amalgam, on the other hand, uses elemental mercury. Dentists take it in liquid form and mix it with a powder of other metals like silver, tin and copper to create a pliable paste. After it's placed in a prepared cavity, the amalgam hardens into a compound in which the mercury interlaces with the other metals and becomes "trapped."
Although over time the filling may emit trace amounts of mercury vapor, it's well below harmful levels. You're more likely to encounter "un-trapped" mercury in your diet than from a dental filling. And scores of studies over amalgam's 150-year history have produced no demonstrable ill effects due to mercury.
Although it now competes with more attractive materials, amalgam still fills (no pun intended) a necessary role. Dentists frequently use amalgam in less visible back teeth, which encounter higher chewing pressures than front teeth. So, if you already have an amalgam filling or we recommend one to you, relax — you're really in no danger of mercury poisoning.
If you would like more information on dental amalgam fillings, please contact us or schedule an appointment for a consultation.
By Dental Arts of Wyomissing
August 04, 2016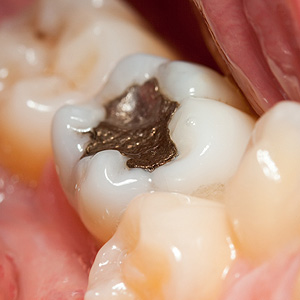 With all the new tooth-colored fillings for cavities, it's easy to overlook metal amalgam. While this mainstay of dental care for over a century might not be as attractive as composite resins or glass and resin ionomers, it still has the advantage of strength and durability.
Amalgam is a stable metal alloy usually made up of silver, tin, copper and mercury. The metals are proportioned and mixed precisely to guard against "free" mercury molecules, which could pose a health hazard. The mixture is pliable at first, but then sets hard once molded into the prepared area of the tooth.
Besides strength, amalgam's other advantages include low cost, high resistance to wear and biocompatibility (not toxic to the body or allergy-producing). At the same time, it can require more tooth structure removal to accommodate a filling and cause higher sensitivity to temperature for a while after installation. Its main disadvantage, however, is appearance — it's now considered unacceptable from an aesthetic point of view to use it in visible areas like the front teeth.
Because of this, materials resembling natural tooth color are coming into vogue, especially as their strength improves. Still, dental amalgam continues to play a useful role, especially in less visible back teeth with higher chewing forces.
One past concern about dental amalgam is the inclusion of mercury in the alloy. As mentioned before, mercury is hazardous in a "free" form when not knit microscopically with other metals; as such it can emit a vapor that could enter the bloodstream and damage the nervous system. But after several studies by various organizations, the American Dental Association has concluded amalgam's precise mixture prevents the mercury from taking this form: although some vapor is given off during chewing it's far too low in concentration to pose any danger.
Dental amalgam continues to be an effective choice for fillings. Whether it's the right choice for you will depend on the type and location of a tooth to be filled, and whether durability is a higher concern than appearance. If we do recommend an amalgam filling, you can be assured it's a safe and lasting choice.
If you would like more information on your choices for dental fillings, please contact us or schedule an appointment for a consultation. You can also learn more about this topic by reading the Dear Doctor magazine article "Silver Fillings — Safe or Unsafe?"
By Dental Arts of Wyomissing
July 02, 2014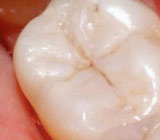 Q: I've never heard these terms used in dentistry. What are they?
A: In the decorative arts, an inlay refers to a small piece of distinctive material that's set into a larger matrix: a mother of pearl accent worked into the lid of a wooden box, for example. In dentistry, it means something similar: a filling (or restoration) that's fabricated in a dental laboratory, and then set into a tooth in an area that has been damaged or lost.
Q: What's the difference between inlays and onlays?
A: An inlay is made to fit in between the cusps (small points or ridges) of a back tooth (molar or premolar), and it covers only a small region of the biting surface of the tooth. If the restoration covers one or more of the cusps, it's an onlay.
Q: Why would I need to have one of these restorations?
A: When a tooth has suffered damage (from decay or trauma, for example), and the affected area is too large to fill with a simple filling — but not large enough to need a full crown (cap) — then an inlay or onlay may be just right. Both of these procedures are considered "indirect fillings," because the restoration itself is custom-fabricated in a laboratory and then bonded to the tooth in the dental office.
Q: What is the procedure for getting an inlay or onlay?
A: It's similar to having a crown placed, in that it typically takes more than one office visit — yet an inlay or onlay involves less removal of tooth structure than a crown would require. On the first visit, after the area has been anesthetized (usually with a numbing shot), any decay is removed, and the tooth is shaped to receive the restoration. Next, a model of the tooth is made (either with putty or in digital form), and the tooth receives a temporary filling. The laboratory uses this model to create the actual inlay or onlay, which may take a few days; it is then permanently attached to the tooth on a second visit to the office. However, with today's advances in CAD/CAM (computer aided design/ manufacturing) technology, some inlays or onlays can be made in the office and placed in the same visit.
Q: What else do I need to know about these tooth restorations?
A: Both inlays and onlays are strong and long-lasting restorations that need no more care than you would normally give your teeth: namely, regular brushing and flossing, and periodic checkups at our office. But because they don't require the removal of a great deal of natural tooth material, they are considered relatively conservative treatments. After a thorough dental examination, we can recommend the type of tooth restoration that's most appropriate in your individual circumstances.
If you'd like to find out more about inlays or onlays, please contact us or schedule an appointment for a consultation. You can also read the Dear Doctor magazine articles "Porcelain Crowns & Veneers" and "The Natural Beauty of Tooth Colored Fillings."