Dental Arts of Wyomissing Blog
Posts for tag: thumb sucking
By Dental Arts of Wyomissing
April 25, 2017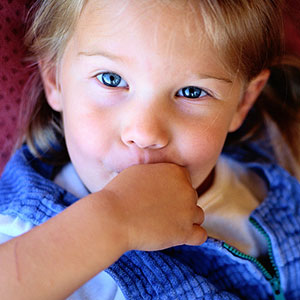 One of the biggest concerns we hear from parents is about their child's thumb sucking habit. Our advice: if they're under age 4, there's no need for concern — yet. If they're older, though, you should be concerned about the possible effect on their bite.
Thumb sucking is a universal habit among infants and toddlers and is related to their swallowing pattern during feeding. As they swallow, their tongue thrusts forward to create a seal with the lips around the breast or a bottle nipple. Many pediatricians believe thumb sucking replicates nursing and so has a comforting effect on infants.
Around age 4, though, this swallowing pattern begins to change to accommodate solid food. The tongue now begins to rest at the back of the top front teeth during swallowing (try swallowing now and you'll see). For most children, their thumb sucking habit also fades during this time and eventually stops.
But for whatever reason, some children don't stop. As the habit persists, the tongue continues to thrust forward rather than toward the back of the top front teeth. Over time this can place undue pressure on both upper and lower front teeth and contribute to the development of an open bite, a slight gap between the upper and lower teeth when the jaws are shut.
While late childhood thumb sucking isn't the only cause for an open bite (abnormal bone growth in one jaw is another), the habit is still a prominent factor. That's why it's important that you start encouraging your child to stop thumb sucking around age 3 and no later than 4. This is best accomplished with positive reinforcement like rewards or praise.
If they've continued the habit a few years after they should have stopped, we may also need to check to see if their swallowing mechanism has become stunted. If so, we may need to use certain exercises to retrain their tongue to take the proper position during swallowing.
While you shouldn't panic, it's important to take action to stop thumb sucking before it becomes a long-term problem. A positive, proactive approach will help avoid costly orthodontic problems later in their lives.
If you would like more information about thumb or finger sucking, please contact us or schedule an appointment for a consultation. You can also learn more about this topic by reading the Dear Doctor magazine article "How Thumb Sucking Affects the Bite."
By Dental Arts of Wyomissing
June 17, 2014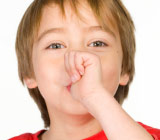 Are the following statements true or false?
Thumb sucking in children may cause problems with their teeth later on.
A: TRUE
Prolonged thumb sucking may be responsible for many problems with the bite. The constant pressure of the thumb itself can create a gap between the top and bottom teeth in front, a condition called an "open bite." It also reinforces the habit of using the "tongue thrust" motion in swallowing, where the tongue is positioned between top and bottom teeth. This habit may also block full eruption of the front teeth.
Infants and young children swallow exactly the same way that adults do.
A: FALSE
When they swallow, young children use what is called the "infantile swallowing pattern." In this method, which begins before their teeth have erupted, the tongue is thrust forward in the mouth, sealing and supporting the lips. In adult swallowing, the tongue touches the roof of the mouth, behind the front teeth. The transition from the infantile method usually happens naturally, by around age 4.
Most open bites result from the habit of positioning the tongue too far forward.
A: TRUE
Failure to transition between the infantile and adult swallowing pattern is believed to be the cause of most open bites. The tongue's position alone may prevent the front teeth from fully developing. Allowing the thumb to rest between the teeth has the same effect — and it can also push the front teeth forward. Other causes of an open bite are skeletal or jaw-related problems.
It is harder to cure open bites caused by thumb sucking or bad tongue position than those from other causes.
A: FALSE
Open bites that are caused by skeletal factors (patterns of bone growth, etc) are often difficult to resolve. Those caused by dental factors (tongue position, tooth eruption, etc) are generally easier to fix. However, the pressure exerted by the thumb over a long period of time can influence bone growth in the jaw.
There is a dental appliance that can help discourage thumb sucking.
A: TRUE
A thin metal "tongue crib" placed behind upper and lower incisors discourages the thumb-sucking habit. It also helps to "re-train" the tongue, keeping it from going between upper and lower teeth. To successfully treat an open bite caused by dental factors, and to prevent its reoccurrence, it is essential to eliminate the unhelpful habits of both the thumb and the tongue.
If you would like more information about thumb sucking or open-bite problems in children, please contact us or schedule an appointment for a consultation. You can also learn more about this topic by reading the Dear Doctor magazine article "How Thumb Sucking Affects The Bite."
By Dental Arts of Wyomissing
October 08, 2013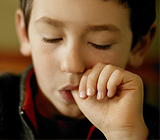 One of the most common parental concerns is the habit of many children, even late into childhood, to suck their thumbs or fingers. Many parents have asked us, "Could this affect their teeth?"
The answer, unfortunately, is yes — thumb sucking can contribute to a malocclusion (bad bite) that could eventually require orthodontic treatment. Before making any assumptions, however, we need to understand the bigger picture.
To begin with, infants have a different swallowing mechanism than adults and older children. When you as an adult swallow, you'll notice the tip of your tongue positions itself just above the back of the top front teeth. An infant, however, will thrust their tongue between their upper and lower jaw as they swallow (also known as an infantile swallowing pattern or primary tongue thrust). The infant normally begins changing to an adult swallowing pattern when their primary (baby) teeth begin to erupt.
However, if a child's swallowing transition is slower than normal and the tongue rests between the jaws for a longer duration, it can inhibit the full eruption of teeth, believed to be the main cause of an open bite (a gap between the upper and lower teeth when the jaws are shut). The thumb during sucking resting between the teeth can have the same effect.
Thumb sucking may not necessarily lead to a malocclusion — for example, an abnormally developing jawbone could be the culprit. If prolonged thumb sucking does become a concern, however, there are steps we can take to reduce the impact of the habit. We can install a thin metal "tongue crib" behind the upper and lower incisors that will not only discourage thumb sucking, but also help retrain the tongue not to rest between the upper and lower teeth. There are also exercise routines known as orofacial myofunctional therapy (OMT) that can retrain specific muscles in the mouth to encourage more normal chewing and swallowing patterns.
These steps may not prevent future orthodontic treatment, but they could reduce its extent. The key is regular dental checkups and consultation to ensure your child's teeth and bite are developing normally.
If you would like more information on the effects of chronic thumb sucking on the mouth, please contact us or schedule an appointment for a consultation. You can also learn more about this topic by reading the Dear Doctor magazine article "How Thumb Sucking Affects the Bite."