Dental Arts of Wyomissing Blog
Posts for tag: tmj disorders
By Dental Arts of Wyomissing
June 07, 2021
Temporomandibular joint disorder (TMD) is an umbrella term for a number of chronic jaw problems. These conditions cause recurring pain for 10 to 30 million Americans, especially women of childbearing age.
But even after decades of treatment and research, a full understanding of TMD's underlying causes eludes us. That doesn't mean, however, that we haven't made progress—we have indeed amassed a good deal of knowledge and experience with TMD and how best to treat it.
A recent survey of over a thousand TMD patients helps highlight the current state of affairs about what we know regarding these disorders, and where the future may lie in treatment advances. Here are a few important findings gleaned from that survey.
Possible causes. When asked what they thought triggered their TMD episodes, the top answers from respondents were trauma, stress and teeth clenching habits. This fits in with the consensus among experts, who also include genetic disposition and environmental factors. Most believe that although we haven't pinpointed exact causes, we are over the target.
Links to other disorders. Two-thirds of survey respondents also reported suffering from three or more other pain-related conditions, including fibromyalgia, rheumatoid arthritis and chronic headaches. These responses seem to point to possible links between TMD and other pain-related disorders. If this is so, it could spur developments in better diagnostic methods and treatment.
The case against surgery. Surgical procedures have been used in recent years to treat TMD. But in the survey, of those who have undergone surgery only one-third reported any significant relief. In fact, 46% considered themselves worse off. Most providers still recommend a physical joint therapy approach first for TMD: moist heat or ice, massage and exercises and medications to control muscle spasms and pain.
These findings underscore one other important factor—there is no "one size fits all" approach to TMD management. As an individual patient, a custom-developed action plan of therapy, medication, and lifestyle and diet practices is the best way currently to reduce the effects of TMD on your life.
If you would like more information on TMD management and treatment, please contact us or schedule an appointment for a consultation. You can also learn more about this topic by reading the Dear Doctor magazine article "Chronic Jaw Pain and Associated Conditions."
By Dental Arts of Wyomissing
May 10, 2015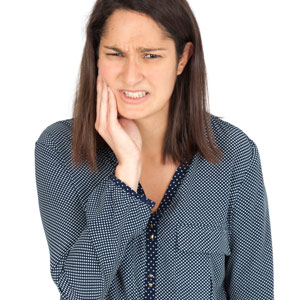 A blow to the face can result in a variety of injuries to your jaws and the temporomandibular joints (TMJs) that join the lower jaw to the skull. Only a thorough examination can determine the type and extent of the injury, and how to treat it.
The pain you feel in your jaw may indicate a direct injury, usually near the joint. This could mean the joint head (condyle) has dislocated, or moved out of the joint space. It could also mean you've fractured your lower jaw, most commonly just below the head of the joint.
Jaw pain can also indicate structures near the jaw and joint have been damaged and the jaw is indirectly affected. In some cases a damaged tooth may be radiating pain signals through the jaw (along similar nerve paths). More likely, trauma to soft tissue near the jaw joint has swelled with inflammation, putting pressure on the joint and temporarily stopping the condyle from seating fully in the joint space.
Any of these injuries can also cause painful muscle spasms, a defensive reaction from the body that causes muscles on either side of the jaw to limit movement preventing further damage (a natural splint, if you will). Thus, the pain may be compounded by a diminished range of motion when you try to chew or speak.
It's important, therefore, to determine the exact cause of pain and limited movement before commencing treatment. Spasms and inflammation are usually treated with muscle relaxant drugs and anti-inflammatory pain relievers. In the case of a dislocation, gentle manipulation can ease the condyle back into the joint space. A fracture would require more extensive treatment, including repositioning broken bone and immobilizing the jaw from movement to allow healing. In the most severe cases, surgical treatment may be necessary to internally immobilize the joint.
If you sustain an injury that results in jaw swelling and pain, you should see us without delay. The sooner we can diagnose and begin the proper treatment for your injury, the less likely you'll encounter long-term problems and the sooner you'll be pain and swelling free.
If you would like more information on the causes and treatment of jaw pain, please contact us or schedule an appointment for a consultation. You can also learn more about this topic by reading the Dear Doctor magazine article "Jaw Pain."