Dental Arts of Wyomissing Blog
Posts for tag: wisdom teeth
By Dental Arts of Wyomissing
September 30, 2020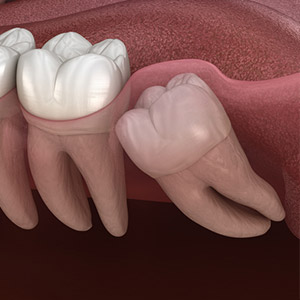 One of the major signs that a young person's dental development is nearing completion is the eruption of the last four permanent teeth: the third molars, located rear-most on either side of both the upper and lower jaws. But the advent of these molars, also called wisdom teeth, isn't always a cause for celebration: They can give rise to serious dental problems.
Wisdom teeth often arrive on an already crowded jaw, making them subject to erupting out of position or becoming impacted, totally or partially submerged in the gums. This can cause harm not only to themselves, but also to other teeth: They can impinge on and damage the roots of their neighbors; impede brushing and flossing and increase the risk of disease; and skew the alignment of other teeth to create poor bites that affect dental health and function.
Wisdom teeth are considered so prone to these problems (an estimated 70% between ages 20 and 30 have at least one impacted molar) that it's been a common practice to remove them before they show signs of disease or poor bite development. As a result, third molar extractions are the most common surgical procedure performed by oral surgeons.
But the dental profession is now reevaluating this practice of early removal. On the whole, it's difficult to predict if the eruption of wisdom teeth in a particular person will actually lead to problems. It may be premature, then, to remove wisdom teeth before there's sufficient evidence of its necessity.
As a result, many dentists now follow a more nuanced approach to wisdom teeth management. An impacted wisdom tooth that's diseased or contributing to disease is an obvious candidate for removal. But if the eruption is proceeding without signs of impaction, disease or poor bite development, many providers recommend not removing them early. Instead, their development is allowed to continue, although monitored closely.
If signs of problems do begin to emerge, then removal may again be an option. Until then, a more long-term watchful approach toward wisdom teeth may be the best strategy for helping a young person achieve optimal dental health.
If you would like more information on managing wisdom teeth treatment, please contact us or schedule an appointment for a consultation. You can also learn more about this topic by reading the Dear Doctor magazine article "Wisdom Teeth: Coming of Age May Come With a Dilemma."
By Dental Arts of Wyomissing
July 22, 2020
If all goes normally, we have most of our permanent teeth as we enter puberty. Except, though, when it doesn't—sometimes incoming permanent teeth don't fully erupt, often because there's not enough room for them on the jaw. This can leave all or part of a tooth still up inside the gum and bones.
This condition is known as impaction, and it can cause problems with a person's bite and their smile. This is especially true of the upper canines, those pointed teeth located just under the eyes. Without them present, a person's smile can look oddly different. Moreover, it can worsen their bite and increase the risk of trauma and disease for nearby teeth.
Fortunately, there may be a way to coax impacted canines into erupting into their proper position on the jaw. It will involve, though, some minor surgery and orthodontic intervention to accomplish that feat.
First, though, a patient with missing canines should undergo a thorough orthodontic evaluation. This exam will reveal not only what may be going on with the missing teeth, but how the whole bite has been affected. Knowing the big picture will help direct the next treatment steps.
After pinpointing the impacted teeth's exact position (usually through x-rays or cone beam CT scanning), we then decide whether it's feasible to attempt to expose the teeth. Sometimes, a tooth's position is so out of place that it may be best to remove it and consider a dental implant or other restorative measures.
If it is in a workable position, then the impacted teeth would be exposed surgically (usually by an oral surgeon or periodontist). The surgeon would then bond a small bracket to the exposed tooth and then attach a small chain.
After suturing the incised gum tissues back in place, the chain extending outward from the gums would then be looped over orthodontic hardware attached to other teeth. This will place downward pressure on the upper canine tooth, and over several months prod it to fully erupt.
This may sound like an elaborate procedure, but it's fairly routine and predictable. As a result, a patient can finally get the full benefit of all their teeth, enhance their dental health and transform their smile.
If you would like more information on dealing with impacted teeth, please contact us or schedule an appointment for a consultation. You can also learn more about this topic by reading the Dear Doctor magazine article "Exposing Impacted Canines."
By Dental Arts of Wyomissing
January 09, 2019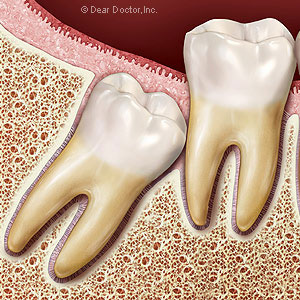 As permanent teeth gradually replace primary ("baby") teeth, most will come in by early adolescence. But the back third molars—the wisdom teeth—are often the last to the party, usually erupting between ages 18 and 24, and the source of possible problems.
This is because the wisdom teeth often erupt on an already crowded jaw populated by other teeth. As a result, they can be impacted, meaning they may erupt partially or not at all and remain largely below the gum surface.
An impacted tooth can impinge on its neighboring teeth and damage their roots or disrupt their protective gum attachment, all of which makes them more susceptible to tooth decay or periodontal (gum) disease. Impacted teeth can also foster the formation of infected cysts that create areas of bone loss or painful infections in the gums of other teeth.
Even when symptoms like these aren't present, many dentists recommend removing the wisdom teeth as a preemptive measure against future problems or disease. This often requires a surgical extraction: in fact, wisdom teeth removal is the most common oral surgical procedure.
But now there's a growing consensus among dentists that removing or not removing wisdom teeth should depend on an individual's unique circumstances. Patients who are having adverse oral health effects from impacted wisdom teeth should consider removing them, especially if they've already encountered dental disease. But the extraction decision isn't as easy for patients with no current signs of either impaction or disease. That doesn't mean their situation won't change in the future.
One way to manage all these potentialities is a strategy called active surveillance. With this approach, patient and dentist keep a close eye on wisdom teeth development and possible signs of impaction or disease. Most dentists recommend carefully examining the wisdom teeth (including diagnostic x-rays and other imaging) every 24 months.
Following this strategy doesn't mean the patient won't eventually have their wisdom teeth removed, but not until there are clearer signs of trouble. But whatever the outcome might be, dealing properly with wisdom teeth is a high priority for preventing future oral health problems.
If you would like more information on wisdom teeth and their potential impact on dental health, please contact us or schedule an appointment for a consultation. You can also learn more about this topic by reading the Dear Doctor magazine article "Wisdom Teeth: Coming of Age May Come with a Dilemma."