Dental Arts of Wyomissing Blog
Posts for: October, 2013
By Dental Arts of Wyomissing
October 23, 2013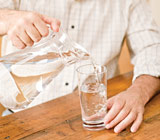 You hardly notice the moist environment of your mouth — unless it becomes uncomfortably dry. Some instances of dry mouth are quite normal — when you first wake in the morning after reduced saliva flow during sleep, when you're stressed, or when you're dehydrated and need fluids. But some are not normal — millions of people, in fact, suffer from a chronic inadequacy of saliva production and flow.
Chronic dry mouth (or xerostomia) can have a greater effect on your oral health than discomfort. Saliva performs a number of tasks for the body: its enzymes help break down food before digestion; its antimicrobial properties help reduce harmful bacteria and its buffering ability helps neutralize acid, both of which reduce the risk of tooth decay.
There are a number of causes for chronic dry mouth. One of the most common arises as a side effect of over 500 medications, both prescription and over-the-counter. The major contributors to dry mouth fall into three main types: antihistamines, used to treat allergies; diuretics, prescribed to cardiac patients to drain excess fluid; and antidepressants. Diseases like Diabetes, Parkinson's disease, or AIDS can also cause dry mouth. Some treatments can too — persons undergoing head or neck radiation or chemotherapy may experience dry mouth.
If you've noticed dry mouth over several days, it's a good idea to visit us for an exam. Our first step is to try to determine the extent and cause of the condition. Depending on what we find, we can then recommend a treatment path that includes some changes in habit and prescribed medications. For example, if lack of hydration is contributing to dry mouth, we would recommend drinking an adequate amount of water, as well as cutting back on caffeinated or acidic beverages. We might also prescribe medication to stimulate saliva flow. Consuming foods that contain xylitol, a natural sugar substitute, may also do the same.
It's also important that you maintain a good oral hygiene regimen and regular dental checkups and cleanings. Good oral hygiene and the proper treatment for chronic dry mouth will greatly reduce your risk of tooth decay and other diseases.
If you would like more information on the causes and treatment of dry mouth, please contact us or schedule an appointment for a consultation. You can also learn more about this topic by reading the Dear Doctor magazine article "Dry Mouth."
By Dental Arts of Wyomissing
October 08, 2013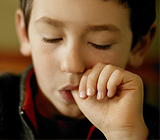 One of the most common parental concerns is the habit of many children, even late into childhood, to suck their thumbs or fingers. Many parents have asked us, "Could this affect their teeth?"
The answer, unfortunately, is yes — thumb sucking can contribute to a malocclusion (bad bite) that could eventually require orthodontic treatment. Before making any assumptions, however, we need to understand the bigger picture.
To begin with, infants have a different swallowing mechanism than adults and older children. When you as an adult swallow, you'll notice the tip of your tongue positions itself just above the back of the top front teeth. An infant, however, will thrust their tongue between their upper and lower jaw as they swallow (also known as an infantile swallowing pattern or primary tongue thrust). The infant normally begins changing to an adult swallowing pattern when their primary (baby) teeth begin to erupt.
However, if a child's swallowing transition is slower than normal and the tongue rests between the jaws for a longer duration, it can inhibit the full eruption of teeth, believed to be the main cause of an open bite (a gap between the upper and lower teeth when the jaws are shut). The thumb during sucking resting between the teeth can have the same effect.
Thumb sucking may not necessarily lead to a malocclusion — for example, an abnormally developing jawbone could be the culprit. If prolonged thumb sucking does become a concern, however, there are steps we can take to reduce the impact of the habit. We can install a thin metal "tongue crib" behind the upper and lower incisors that will not only discourage thumb sucking, but also help retrain the tongue not to rest between the upper and lower teeth. There are also exercise routines known as orofacial myofunctional therapy (OMT) that can retrain specific muscles in the mouth to encourage more normal chewing and swallowing patterns.
These steps may not prevent future orthodontic treatment, but they could reduce its extent. The key is regular dental checkups and consultation to ensure your child's teeth and bite are developing normally.
If you would like more information on the effects of chronic thumb sucking on the mouth, please contact us or schedule an appointment for a consultation. You can also learn more about this topic by reading the Dear Doctor magazine article "How Thumb Sucking Affects the Bite."