Dental Arts of Wyomissing Blog
Posts for: January, 2014
By Dental Arts of Wyomissing
January 29, 2014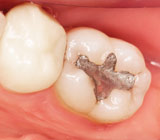 In modern times, metals have played an important role in tooth preservation and restoration. From the dental amalgam used for a century and a half to fill cavities to the titanium alloy of dental implants, your dental care would not be as comprehensive as it is today without them. But could these metals, so important in providing oral health, cause an allergic reaction in some people?
An allergy is an exaggerated response of the body's immune system to any substance (living or non-living) it identifies as a threat. The response could be as minor as a rash or as life-threatening as a systemic shut-down of the body's internal organs. An allergy can develop with anything, including metals, at any time.
A low percentage of the population has an allergy to one or more metals: some surveys indicate 17% of women and 3% of men are allergic to nickel, while even fewer are allergic to cobalt and chromium. Dermatitis patients seem to have a higher reaction rate, some allergic even to metals in jewelry or clothing that contact the skin.
Dental amalgam, an alloy made of various metals including mercury, has been used effectively since the mid-19th Century to fill cavities; even with today's tooth-colored resin materials, amalgam is still used for many back teeth fillings. Over its history there have been only rare reports of allergic reactions, mainly localized rashes or moderate inflammation.
The most recent metal to come under scrutiny is titanium used in dental implants. Not only is it highly biocompatible with the human body, but titanium's bone-loving (osteophilic) quality encourages bone growth around the implant's titanium post inserted into the jawbone, strengthening it over time. But does titanium pose an allergic threat for some people? One study reviewed the cases of 1,500 implant patients for any evidence of a titanium allergy. The study found a very low occurrence (0.6%) of reactions.
The conclusion, then, is that the use of metals, especially for dental implants, carries only a minimal risk for allergic reactions and none are life-threatening. The vast majority of dental patients can benefit from the use of these metals to improve their oral health without adverse reaction.
If you would like more information on metal allergies with dental materials, please contact us or schedule an appointment for a consultation. You can also learn more about this topic by reading the Dear Doctor magazine article "Metal Allergies to Dental Implants."
By Dental Arts of Wyomissing
January 14, 2014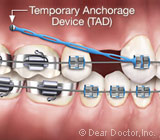 The field of orthodontics continues to progress with new and innovative techniques. One such innovation is known as a TAD — Temporary Anchorage Device. Best described as "mini-implants," TADs provide orthodontists with more precise control over the movement and positioning of certain teeth that could reduce treatment time.
Braces, the most common form of orthodontic device, are small brackets affixed to the outside of the teeth. We thread small flexible wires through the brackets which in turn apply gentle pressure to the teeth. This puts pressure on the periodontal ligament, an elastic tissue that holds the teeth in place to the jawbone. The ligament has small fibers that insert into the teeth and are held there by a substance called cementum. The pressure on the ligament causes it to form new bone, ligament and cementum as it moves into the new desired position.
Of course, each orthodontic case is different. The best outcome for some patients is to move only certain teeth, while minimizing movement on others. This involves a concept in orthodontics known as "anchorage," a planned circumstance where certain teeth or groups of teeth are immobilized (or "anchored") to prevent movement.
TADs do just that — they are, in effect, mini-screws or implants temporarily placed in the jaw bone to inhibit movement of a specific tooth or group of teeth, while not interfering with the movement of the misaligned teeth. These tiny devices are typically installed using only local anesthesia to numb the general location of their placement, and then removed when orthodontic treatment is completed.
TADs are part of an overall strategy to correct poor bite and teeth misalignment in the most precise and efficient way possible. They require planning, sometimes through consultation with different dental disciplines, to assure that their placement won't damage nerves, sinuses or other vital structures. Their use, though, could help shorten treatment time with braces, and help contribute to the best possible outcome — a new smile.
If you would like more information on transitional mini implants, please contact us or schedule an appointment for a consultation. You can also learn more about this topic by reading the Dear Doctor magazine article "What are TADs?"