Dental Arts of Wyomissing Blog
Posts for: April, 2014
By Dental Arts of Wyomissing
April 24, 2014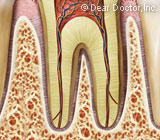 Without a doubt, an effective root canal treatment can extend the life of a tooth for many years. But sometimes even a well-maintained tooth can fall prey to disease months or even years after a root canal treatment. While there are a number of reasons to account for this failure, a common one is so tiny it could have easily been missed during the first treatment.
A root canal is an open space within the tooth that contains the pulp. The pulp is a connective tissue with a network of nerve fibers connected to the root that alert the brain to environmental changes involving the tooth. It is most important during the tooth's early development, but becomes less important as we age. The pulp is susceptible to infection from tooth decay or periodontal (gum) disease, which if left untreated can threaten the tooth's survival. During a root canal treatment, we enter these spaces, clear out the diseased pulp and fill the canal with a bio-compatible filling; we then seal it off to deter further decay.
The treatment could ultimately fail, though, because of accessory or lateral canals missed during the procedure. Like a tree with smaller branches growing out of its larger limbs, accessory canals are smaller access ways that branch off of the main root canals. These accessory canals, which can occur anywhere along a main canal, can be quite small and not easily detected during an initial root canal treatment. They are especially susceptible to infection due to gum disease if they open into the periodontal membrane, the main attachment point between teeth and bone.
If we suspect the presence of accessory canals (either initially or after ensuing problems following a root canal treatment), this could require the skills of an endodontist, a dentist who specializes in the treatment of a tooth's interior. Accessory canals are treated in much the same way as larger canals, but may require an endodontist's specialized microscopic equipment and filling techniques. Effective treatment of these smaller accessory canals will certainly improve the chances of a successful, long-term outcome for the tooth.
If you would like more information on root canal treatments, please contact us or schedule an appointment for a consultation. You can also learn more about this topic by reading the Dear Doctor magazine article "Accessory Canals."
By Dental Arts of Wyomissing
April 09, 2014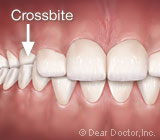 When most people think of orthodontic treatment, they may think of braces worn during the teenage years. But there are some types of malocclusions (bad bites) that may benefit from intervention much earlier than adolescence. A cross-bite is one example.
A cross-bite occurs when the front teeth of the lower arch bite in front of the upper teeth rather than behind them. The condition can have an adverse effect on any of the six front teeth of either arch. This type of malocclusion can develop quite early in childhood.
Orthodontists have developed a two-phase treatment for a cross-bite, with the possibility that the first phase may be all that's needed. If your child has a cross-bite, your orthodontist may first recommend he or she wear a specially-designed retainer for a few months. The retainer could stop and correct an existing problem before it becomes worse, or it could prevent a deeper problem from developing in the first place. The retainer could also help guide jawbone development during these formative years, even as early as age 7, for children at risk.
Even if this first phase doesn't fully correct the cross-bite and the second phase (most likely braces or a similar orthodontic device) becomes necessary, it could still help to make the second phase easier and less costly. On the other hand, if orthodontic treatment is postponed until adolescence when the mouth structures are more fully formed it may become quite difficult or even impossible to correct the problems that have developed.
As a result, early intervention for this or similar orthodontic conditions is the most efficient strategy, even when later treatment is necessary. As part of your child's regular dental care (which should begin ideally around their first birthday), we can advise you on any need for an orthodontic evaluation based on our observations. An orthodontist can then best advise whether waiting until later for treatment is best, or whether intervention now could lessen problems later.
If you would like more information on preventative orthodontics, please contact us or schedule an appointment for a consultation. You can also learn more about this topic by reading the Dear Doctor magazine article "Preventative & Cost Saving Orthodontics."