Dental Arts of Wyomissing Blog
Posts for: July, 2014
By Dental Arts of Wyomissing
July 17, 2014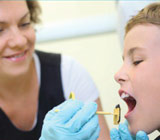 X-ray diagnostics have revolutionized our ability to detect early or hidden cavities, paving the way for better dental care. But x-ray exposure also increases health risks and requires careful usage, especially with children.
A form of invisible radiation, x-rays penetrate and pass through organic tissue at varying rates depending on the density of the tissue. Denser tissues such as teeth or bone allow less x-rays to pass through, resulting in a lighter image on exposed film; less dense tissues allow more, resulting in a darker image. This differentiation enables us to identify cavities between the teeth — which appear as dark areas on the lighter tooth image — more readily than sight observation or clinical examination at times.
But excessive exposure of living tissue to x-ray radiation can increase the risk of certain kinds of cancer. Children in particular are more sensitive than adults to radiation exposure because of their size and stage of development. Children also have more of their lifespan in which radiation exposure can manifest as cancer.
Because of these risks, we follow an operational principle known as ALARA, an acronym for "As Low As Reasonably Achievable." In other words, we limit both the amount and frequency of x-ray exposure to just what we need to obtain the information necessary for effective dental care. It's common, for example, for us to use bitewing radiographs, so named for the tab that attaches the exposable film to a stem the patient bites down on while being x-rayed. Because we only take between two and four per session, we greatly limit the patient's exposure to x-rays.
Recent advances in high-speed film and digital equipment have also significantly reduced x-ray exposure levels. The average child today is exposed to just 2-4 microsieverts during an x-ray session — much less than the 10 microsieverts of background radiation we all are exposed to in the natural environment every day.
Regardless of the relative safety of modern radiography, we do understand your concerns for your child's health. We're more than happy to discuss these risks and how they can be minimized while achieving maximum benefits for optimum dental health. Our aim is to provide your child with the highest care possible at the lowest risk to their health.
If you would like more information on the use of x-rays in dentistry, please contact us or schedule an appointment for a consultation. You can also learn more about this topic by reading the Dear Doctor magazine article "X-Ray Safety for Children."
By Dental Arts of Wyomissing
July 02, 2014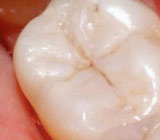 Q: I've never heard these terms used in dentistry. What are they?
A: In the decorative arts, an inlay refers to a small piece of distinctive material that's set into a larger matrix: a mother of pearl accent worked into the lid of a wooden box, for example. In dentistry, it means something similar: a filling (or restoration) that's fabricated in a dental laboratory, and then set into a tooth in an area that has been damaged or lost.
Q: What's the difference between inlays and onlays?
A: An inlay is made to fit in between the cusps (small points or ridges) of a back tooth (molar or premolar), and it covers only a small region of the biting surface of the tooth. If the restoration covers one or more of the cusps, it's an onlay.
Q: Why would I need to have one of these restorations?
A: When a tooth has suffered damage (from decay or trauma, for example), and the affected area is too large to fill with a simple filling — but not large enough to need a full crown (cap) — then an inlay or onlay may be just right. Both of these procedures are considered "indirect fillings," because the restoration itself is custom-fabricated in a laboratory and then bonded to the tooth in the dental office.
Q: What is the procedure for getting an inlay or onlay?
A: It's similar to having a crown placed, in that it typically takes more than one office visit — yet an inlay or onlay involves less removal of tooth structure than a crown would require. On the first visit, after the area has been anesthetized (usually with a numbing shot), any decay is removed, and the tooth is shaped to receive the restoration. Next, a model of the tooth is made (either with putty or in digital form), and the tooth receives a temporary filling. The laboratory uses this model to create the actual inlay or onlay, which may take a few days; it is then permanently attached to the tooth on a second visit to the office. However, with today's advances in CAD/CAM (computer aided design/ manufacturing) technology, some inlays or onlays can be made in the office and placed in the same visit.
Q: What else do I need to know about these tooth restorations?
A: Both inlays and onlays are strong and long-lasting restorations that need no more care than you would normally give your teeth: namely, regular brushing and flossing, and periodic checkups at our office. But because they don't require the removal of a great deal of natural tooth material, they are considered relatively conservative treatments. After a thorough dental examination, we can recommend the type of tooth restoration that's most appropriate in your individual circumstances.
If you'd like to find out more about inlays or onlays, please contact us or schedule an appointment for a consultation. You can also read the Dear Doctor magazine articles "Porcelain Crowns & Veneers" and "The Natural Beauty of Tooth Colored Fillings."