Dental Arts of Wyomissing Blog
Posts for: January, 2015
By Dental Arts of Wyomissing
January 30, 2015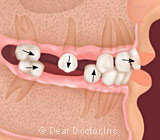 Why is it important to replace missing teeth with restorations such as dental implants? You might be surprised to find that the damage caused by missing teeth is much greater than the simple gaps left in your smile.
As the years go by, teeth lost early in adulthood cause structural changes in a person's face. By age 45 changes in facial structure are already visible in the form of sunken cheeks. By 60, cheeks and lips lose their support, resulting in an aging look. This process continues and if the teeth are not replaced, much of the structural support of the person's face is lost.
These changes are caused by loss of bone. Although it may seem static, bone is actually living tissue that needs constant stimulation to maintain its form and density. With normal stimulation it is in a constant state of resorption (breaking down) and deposition (building up). Teeth provide the needed stimulation for the bone that surrounds them (called alveolar bone) as they meet each other during biting, chewing, and speech. When the stimulation continues, the bone continues to rebuild itself. Without this stimulation, the bone resorbs, does not build up again, and loses substance.
Without stimulation, alveolar bone loses width, height, and volume. Since your teeth and their surrounding bone support your chin, cheeks, and lips, this has a powerful effect on your appearance. It may also affect your ability to chew and to speak.
As alveolar bone diminishes, the next layer of bone also begins to resorb. This is the bone of the jaw itself. The lower part of the face begins to collapse, and the cheeks become hollow. This effect is especially noticeable for people with no teeth (edentulous).
Usually the first tooth to be lost, due to infection and decay, is a molar (back tooth). In the past, a missing single back tooth was frequently replaced by a fixed partial denture (FPD). A crown is provided for each of the two teeth on the sides of the gap, called abutment teeth, to support a false tooth in the middle. However, if they are not well cared for, the abutment teeth may be the next to succumb to decay.
Today the treatment of choice is an implant. A dental implant is a tooth-root replacement made of titanium, which fuses with the bone — making it very stable. Above the gums it is covered by a crown that looks like a natural tooth. The benefit of the implant is that it continues to provide stimulation to the alveolar bone, preventing bone loss.
Implants are also a good choice in the case of multiple missing teeth. They can be used to support bridges or false teeth (dentures). The results are an improved, younger appearance and better functionality.
Contact us today to schedule an appointment to discuss your questions about missing teeth. You can also learn more by reading the Dear Doctor magazine article "The Hidden Consequences of Losing Teeth."
By Dental Arts of Wyomissing
January 15, 2015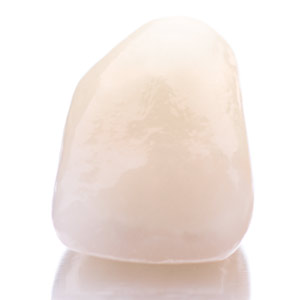 Today's crowns, the visible part of a tooth replacement system, can effectively mimic the shape and color of natural teeth. But not all crowns are equal — so it's best to be well-informed before you undergo a restoration on your natural teeth such as a single crown or bridgework — or if you need a crown on a dental implant that replaces a missing tooth.
To give you a starting point, here are 3 things to keep in mind about crowns as you consider a dental restoration.
Material composition. Most crowns in years past were made of a precious metal, most notably gold. What it lacked in appearance, it made up for in performance and durability. In recent years, dental porcelain has become the popular choice because of its ability to mimic the appearance and translucent color of natural teeth. Today's porcelains are much stronger and are used more frequently for back teeth than in years past. A common recommendation for back teeth is a hybrid crown using metal and porcelain. Metal is incorporated beneath the porcelain in this type of crown to create a strong foundation and is also used along biting surfaces for strength. Porcelain is used in the more visible areas for esthetics.
The dental technician's level of artistry. Most dentists sub-contract crown fabrication to dental laboratory technicians who may have varying levels of experience and artistic ability. A highly skilled technician can produce a crown that blends seamlessly with the patient's remaining natural teeth.
Take a "test drive" of your future smile. Although we as dentists adhere to certain aesthetic principles, beauty is ultimately subjective — "in the eye of the beholder." The final product must meet your expectations and level of comfort. If available, then, consider wearing temporary "trial smile" crowns as a preview of your new smile while your permanent set is under construction. This allows you to "try out" your future smile ahead of time, so you can make recommendations and sign off on the final set before it's finished.
Undertaking any dental restoration is an important life step, both for your health and appearance. Being well-informed — especially about the crowns that you and others will see — will help you make wise choices that lead to a satisfying outcome.
If you would like more information on crowns, please contact us or schedule an appointment for a consultation.