Dental Arts of Wyomissing Blog
Posts for: October, 2015
By Dental Arts of Wyomissing
October 30, 2015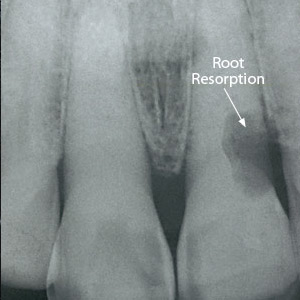 As a new permanent tooth develops, the roots undergo a process of breakdown and growth. As older cells dissolve (a process called resorption), they're replaced by newer cells laid down (deposition) as the jaw develops. Once the jaw development ends in early adulthood, root resorption normally stops. It's a concern, then, if it continues.
Abnormal root resorption most often begins outside of the tooth and works its way in, beginning usually around the neck-like (or cervical) region of the tooth. Also known as external cervical resorption (ECR), the condition usually shows first as pink spots where the enamel is being undermined. As these spots continue to erode, they develop into cavity-like areas.
While its causes haven't been fully confirmed, ECR has been linked to excessive pressure on teeth during orthodontic treatment, periodontal ligament trauma, teeth-grinding or other excessive force habits, and bleaching techniques performed inside a tooth. Fortunately, ECR is a rare occurrence, and most people who've had these problems won't experience it.
When it does occur, though, it must be treated as quickly as possible because the damage can progress swiftly. Treatment depends on the size and location of the resorption: a small site can often be treated by surgically accessing the tooth through the gum tissue and removing the offending tissue cells. This is often followed with tooth-colored dental material that's bonded to the tooth to replace lost structure.
A root canal treatment may be necessary if the damage has extended to the pulp, the tooth's interior. However, there's a point where the resorption becomes too extensive to save the tooth. In these cases, it may be necessary to remove the tooth and replace it with a dental implant or similar tooth restoration.
In its early stages, ECR may be difficult to detect, and even in cases where it's been diagnosed more advanced diagnostics like a CBCT scanner may be needed to gauge the extent of damage. In any case, it's important that you have your teeth examined on a regular basis, at least twice a year. In the rare chance you've developed ECR, the quicker it's found and treatment begun, the better your chances of preserving the tooth.
If you would like more information on root resorption, please contact us or schedule an appointment for a consultation.
By Dental Arts of Wyomissing
October 15, 2015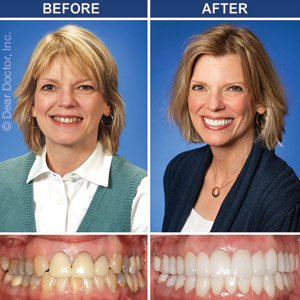 Transforming your smile can be a huge undertaking. And while we have the technical skills, experience and understanding of aesthetics to perform a smile makeover, your input is just as necessary to achieve a satisfying result.
Your part really has to do with expectations — what do you see when you look in the mirror — and what do you want to change?
Here are 3 questions to help guide you in shaping your expectations for that new, beautiful smile.
What do you dislike about your teeth? This is really about specifics and not just a general feeling of dissatisfaction. Are your teeth misshapen, chipped or missing? Are they discolored or stained? Is the spacing off or do you have a poor bite (malocclusion)? Getting a sense of what you perceive as unattractive will help us formulate a plan to improve the appearance of those problem areas.
Are you concerned with how much your gums show when you smile? Your teeth may be perfect, but if your gums seem to steal the spotlight when you smile (known as a "gummy" smile), you may need some remedy like veneers, crowns or even corrective surgery. Which procedure depends on whether the crowns of your teeth are too short in proportion to the gums, or the muscles in your upper lip are allowing the lip to rise too high when you smile. A dental examination will tell all.
Do you want a "Hollywood Smile" — or just a more attractive, natural you? Smile makeovers aren't just about clinical alterations — it's just as much about your personal perceptions of beauty. Some patients want the perfectly shaped, aligned and dazzlingly white smile that's the epitome of Hollywood. Others want only to enhance their smile, perhaps even keeping a few unique imperfections they're comfortable with. It's important to know which person you are, and to communicate that with us when we're putting together your makeover plan.
Changing your smile is a big step in your life. You can help make the process more satisfying and successful if you understand what you want to change — and why.
If you would like more information on smile analysis and makeover, please contact us to schedule an appointment for a consultation. You can also learn more about this topic by reading the Dear Doctor magazine article "Great Expectations."