Dental Arts of Wyomissing Blog
Posts for: December, 2015
By Dental Arts of Wyomissing
December 22, 2015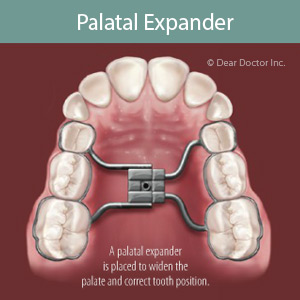 People mainly identify orthodontics with braces. But while they're a major part of it, braces aren't the only way this important dental specialty can make a difference in a person's bite.
For example, orthodontics can help guide the development of a younger patient's facial structure that could head off future upper teeth misalignment. The area of focus is the upper jaw and palate (the roof of the mouth) that jointly make up a structure called the maxilla. The maxilla is actually formed by two bones fused together in the center of the palate along what is known as the midline suture running from front to back in the mouth.
The two bones remain separated until puberty, which helps accommodate rapid structural growth during childhood. But problems can arise if the upper jaw is too narrow, causing a "cross-bite" where the lower back teeth bite abnormally outside the upper ones. This can crowd upper permanent teeth and cause them to erupt improperly.
Using a technique called palatal expansion we can correct this abnormality if we act before the maxillary bones fuse. The technique employs a custom-made appliance called a palatal expander that attaches to the posterior teeth of the upper arch. Expanders have two halves joined by a small screw device to increase tension against the teeth to widen the jaw. A parent or the patient (if old enough) increases the tension by using a special key to turn the adjustment screw a tiny amount each day. This may cause minor discomfort that normally eases in a few minutes.
The patient wears the device until the jaw expands to the desired width and then allows the bones to stabilize in the new position. This can sometimes create a small gap between the upper front teeth, but it often closes on its own or it may require braces to close it.
While palatal expanders are not for every case, they can help normalize development and improve the bite, and thus preclude more extensive orthodontic treatment later. But time is of the essence: after the maxilla has fused, surgery will be necessary to separate them and widen the palate. It's important then not to delay if your child could benefit from this effective treatment.
If you would like more information on palatal expanders and other orthodontic treatments, please contact us or schedule an appointment for a consultation. You can also learn more about this topic by reading the Dear Doctor magazine article "Palatal Expanders."
By Dental Arts of Wyomissing
December 07, 2015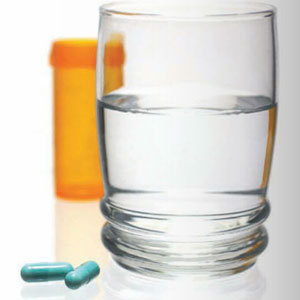 Office cleanings and other minor procedures are a routine part of regular dental care. For some people, though, a routine visit could put them at slight risk for a serious illness.
The reason for this concern is a condition known as bacteremia. This occurs when bacteria, in this case from the mouth and conceivably during an office cleaning or other routine dental procedure, enters the bloodstream. Although for most people this isn't a great issue, there's been concern that bacteremia could further compromise the health of patients with or susceptible to other conditions like endocarditis (heart inflammation), prosthetic joints or compromised immune systems.
This concern grew out of a number of studies in the early 20th Century that seemed to show a link between dental bacteremia and infective endocarditis. At about mid-century it became a common practice to administer antibiotics before dental work (usually 2 grams of amoxicillin or an equivalent about an hour before) to high risk patients as a way of protecting them against infection. The practice later expanded to other health issues, including many heart conditions.
Beginning in 2007, however, guidelines developed jointly by the American Heart Association and the American Dental Association reduced the number of conditions recommended for antibiotic therapy. Based on these guidelines, we now recommend pre-procedure antibiotics if you have a history of infective endocarditis, artificial heart valves, certain repaired congenital heart defects, or heart transplant that develops a subsequent heart valve problem. Patients with prosthetic joints or immune system problems are no longer under the guidelines, but may still undergo antibiotic therapy if believed necessary by their individual physician.
If you have a condition that could qualify for antibiotic therapy, please be sure to discuss it with both your dentist and physician. We'll work together to ensure any dental work you undergo won't have an adverse effect on the rest of your health.
If you would like more information on antibiotic therapy and dental care, please contact us or schedule an appointment for a consultation. You can also learn more about this topic by reading the Dear Doctor magazine article "Antibiotics for Dental Visits."