Dental Arts of Wyomissing Blog
Posts for: August, 2016
By Dental Arts of Wyomissing
August 19, 2016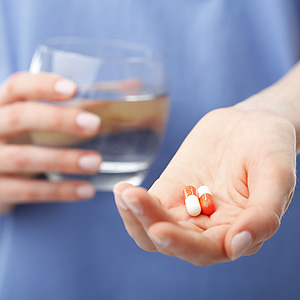 If you're considering dental implants to replace one or more missing teeth, you'll need to undergo a minor to moderate surgical procedure (depending on the number of implants) to install them. Depending on your current health status and medical history, you may need antibiotics before or after the procedure to help ensure a successful outcome.
Although implants have a high success rate (over 95%), they can still fail — and bacterial infection is a major culprit. Installing implants requires surgically accessing the bone through the gum tissues; you may also need other invasive procedures like tooth extraction or bone or gum tissue grafting. These disruptions to the soft tissues can introduce bacteria into the bloodstream.
In certain individuals, this can increase infection risk not only around the implant but also in other parts of the body. You may be at higher risk, for example, if you have serious health problems like cardiovascular disease or diabetes, a weakened immune system, you use tobacco or you're over or under normal weight. The American Dental and American Heart Associations both recommend antibiotics before dental implant surgery as a preventive measure against infection if you have a prosthetic heart valve, a history of infective endocarditis, a heart transplant or some congenital heart conditions.
For other patients with low to moderate risk for infection, there's vigorous debate on administering antibiotics before implant surgery. There are some side effects to antibiotic use, ranging from diarrhea to allergic reactions, and an increased concern in general to the developing resistance of many infectious agents due to the prevalent use of antibiotics. Many dentists and physicians are becoming more discriminate in the patients for which they prescribe antibiotics before surgical procedures.
It really comes down, then, to your particular case: not only the specific procedures you need but also your general health. After weighing these factors against the possible benefits for protecting your health and improving your odds of a successful outcome, we'll recommend whether antibiotic treatment for implants is right for you.
If you would like more information on the role of antibiotics in dental procedures, please contact us or schedule an appointment for a consultation.
By Dental Arts of Wyomissing
August 04, 2016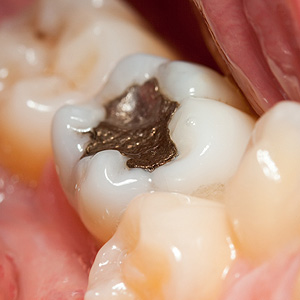 With all the new tooth-colored fillings for cavities, it's easy to overlook metal amalgam. While this mainstay of dental care for over a century might not be as attractive as composite resins or glass and resin ionomers, it still has the advantage of strength and durability.
Amalgam is a stable metal alloy usually made up of silver, tin, copper and mercury. The metals are proportioned and mixed precisely to guard against "free" mercury molecules, which could pose a health hazard. The mixture is pliable at first, but then sets hard once molded into the prepared area of the tooth.
Besides strength, amalgam's other advantages include low cost, high resistance to wear and biocompatibility (not toxic to the body or allergy-producing). At the same time, it can require more tooth structure removal to accommodate a filling and cause higher sensitivity to temperature for a while after installation. Its main disadvantage, however, is appearance — it's now considered unacceptable from an aesthetic point of view to use it in visible areas like the front teeth.
Because of this, materials resembling natural tooth color are coming into vogue, especially as their strength improves. Still, dental amalgam continues to play a useful role, especially in less visible back teeth with higher chewing forces.
One past concern about dental amalgam is the inclusion of mercury in the alloy. As mentioned before, mercury is hazardous in a "free" form when not knit microscopically with other metals; as such it can emit a vapor that could enter the bloodstream and damage the nervous system. But after several studies by various organizations, the American Dental Association has concluded amalgam's precise mixture prevents the mercury from taking this form: although some vapor is given off during chewing it's far too low in concentration to pose any danger.
Dental amalgam continues to be an effective choice for fillings. Whether it's the right choice for you will depend on the type and location of a tooth to be filled, and whether durability is a higher concern than appearance. If we do recommend an amalgam filling, you can be assured it's a safe and lasting choice.
If you would like more information on your choices for dental fillings, please contact us or schedule an appointment for a consultation. You can also learn more about this topic by reading the Dear Doctor magazine article "Silver Fillings — Safe or Unsafe?"