Dental Arts of Wyomissing Blog
Posts for: March, 2017
By Dental Arts of Wyomissing
March 18, 2017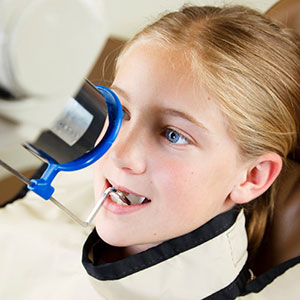 X-ray imaging is a routine part of a child's dental care — and it undeniably makes a difference in preventing and treating dental disease. It's so routine, we can easily forget they're being exposed to an invisible form of electromagnetic radiation.  And just like other sources of radiation, too much x-ray exposure could increase the risk of cancer.
But while it's possible for your child to be over-exposed to x-rays, it's highly unlikely. That's because healthcare professionals like dentists adhere to a standard known as ALARA when considering and administering x-rays. ALARA is an acronym for "as low as reasonably achievable." In other words, we only want to expose a patient to the lowest and safest levels of x-ray dosage and frequency that will achieve the most benefit.
To achieve that standard, professional dental organizations advocate the use of x-rays only after a clinical examination of the patient, as well as a thorough review of their medical history for any usage of x-rays for other conditions. If x-rays are warranted, we then take further precautions to protect the patient and staff, and only use the type of x-ray application that's absolutely necessary. For most children that will be a set of two or four bitewing radiographs, which are quite effective for detecting decay in back teeth.
This dosage of radiation in a session of bitewing radiographs is roughly a fifth of the background radiation in the environment a child may be exposed to every day. By spacing these sessions at least six months apart, we're able to achieve a high level of decay detection at a safe and reasonable amount of x-ray exposure.
On top of that, the digital advances in x-ray imaging have reduced the amount of radiation energy needed to achieve the same results as we once did with film. These lower exposure levels and the ALARA standard helps ensure your child's exposure to x-rays will be well within safe limits.
If you would like more information on the use of x-rays with children, please contact us or schedule an appointment for a consultation. You can also learn more about this topic by reading the Dear Doctor magazine article "X-Ray Safety for Children."
By Dental Arts of Wyomissing
March 03, 2017
If you're considering dental implants, they'll need to be surgically placed in the jaw bone. But don't be alarmed — it's a relatively minor procedure that usually requires nothing more than local anesthesia.
But that being said, it's still an invasive procedure that involves making incisions in gum and bone tissues. That could introduce bacteria into the bloodstream and pose, for certain individuals, a slightly greater risk of infection.
But infection risk is quite low for most healthy patients. As a result, implants enjoy a greater than 95-percent success rate ten years after installation. But some patients have health issues that increase their risk of infection. These include older adults with a weakened immune system, smokers, diabetics or those well under or over their ideal weight.
If you have these or similar health situations, we may recommend undergoing an antibiotic treatment before you undergo surgery. This can help prevent bacteria from spreading and reduce the likelihood of an infection.
Preventive antibiotic therapy is commonplace with many other dental procedures. Both the American Dental Association and the American Heart Association recommend antibiotics before any invasive oral procedure for patients with prosthetic (false) heart valves, past endocarditis, a heart transplant or other heart conditions. To lower the risk of implant failure due to infection, we often advise antibiotics for patients who fall in these categories, as well as those with similar conditions mentioned earlier.
Of course, whether pre-surgical antibiotics is a wise choice for you will depend on your medical history and current health status. We'll consider all these factors thoroughly before advising you. But if you are more susceptible to infection, antibiotics before surgery could potentially lower your risk for an implant failure.
If you would like more information on implant procedures, please contact us or schedule an appointment for a consultation.