Dental Arts of Wyomissing Blog
Posts for: November, 2017
By Dental Arts of Wyomissing
November 22, 2017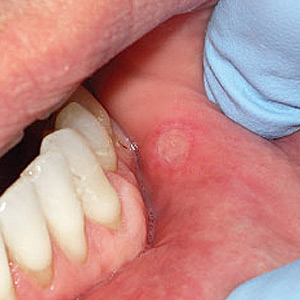 If you occasionally experience small sores in the softer tissues of your mouth, you may have aphthous ulcers or better known as canker sores. While rarely a health concern, they can be painful and annoying particularly when you're eating and drinking.
These breaks in the skin or mucosa (the lining membranes of the mouth) usually occur in the thinner tissues found in the cheeks, lips, under the tongue or in the back of the throat. They tend to be most painful (especially while eating acidic foods like citrus or tomato sauce) between the first few hours of appearing and for a couple of days afterward, and will often occur during periods of anxiety, stress or after a minor injury. The sores will normally heal and fade within a couple of weeks.
Although occasional outbreaks of canker sores are quite common with most people, 20-25% of people (more often women) have a recurring form of painful outbreak known as recurrent aphthous stomatitis (RAS). Another variation called herpetiform aphthae, similar in appearance to herpes simplex virus sores, is characterized by smaller clusters of ulcers. While the specific causes for canker sores are still unclear, there's some correlation between them and abnormalities with a person's immune system, as well as with other systemic conditions like gastrointestinal disorders or vitamin deficiencies.
The basic treatment for canker sores is to first soothe the pain and promote quicker healing. Many over-the-counter medications are available for mild cases that numb the area temporarily and provide a protective covering while the sore heals. For more severe cases, there are also prescription medications (like steroids) that can be applied topically or through injection.
While canker sores are not contagious and usually benign, there are some situations that call for a dental examination: sores that haven't healed within 2 weeks; increasing occurrences and severity of the sores; and never being completely free of a sore in the mouth. These may indicate some other condition, or be an occurrence of cancer or a pre-cancerous condition.
If you have any concerns, be sure to schedule a visit. We'll be glad to evaluate any occurrence of the sores and recommend the best course of treatment to ease the pain and annoyance.
If you would like more information on canker sores or other types of mouth ulcers, please contact us or schedule an appointment for a consultation. You can also learn more about this topic by reading the Dear Doctor magazine article "Mouth Sores."
By Dental Arts of Wyomissing
November 07, 2017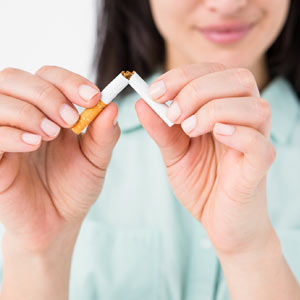 Each November, the American Cancer Society urges smokers to kick the habit for just one day, because if you can quit for one whole day, you can quit for another whole day. Put enough whole days back to back and you're no longer a smoker!
According to the U.S. Centers for Disease Control, cigarette smoking is the leading preventable cause of death in the United States. It harms nearly every organ of the body, causing lung disease, heart disease and diabetes, as well as cancer of the lung, kidney and bladder.
Smoking also causes problems in your mouth. Aside from the more obvious problems of bad breath and yellowed teeth, smoking raises the risk of cancer of the mouth and throat. It can increase the buildup of plaque and tartar, which can lead to cavities and gum disease. Smoking interferes with healing, so treatments may not work as well. The majority of smokers have gum disease and they are more likely to lose teeth from advanced gum disease.
Quitting isn't easy, but it's the best thing you can do for your health. Who wouldn't want fresher breath, younger-looking skin and a better sense of taste and smell?
Even for people who have smoked for a long time, the effects of smoking start to reverse themselves when you quit. Your heart rate, blood pressure and carbon monoxide levels in the blood return to normal shortly after quitting. Studies are showing that in just one year, the risk for heart disease is cut in half. 10 years later the risk of oral cancer is about equal to that of a nonsmoker. In 15 years, the risk of heart disease is the same as for a nonsmoker.
Need help quitting? Talk with your dentist or doctor. You can also visit the American Cancer Society website. If you have any questions about smoking and oral health, please contact our office or schedule a consultation. To learn more, read the Dear Doctor magazine article "Strategies to Stop Smoking."